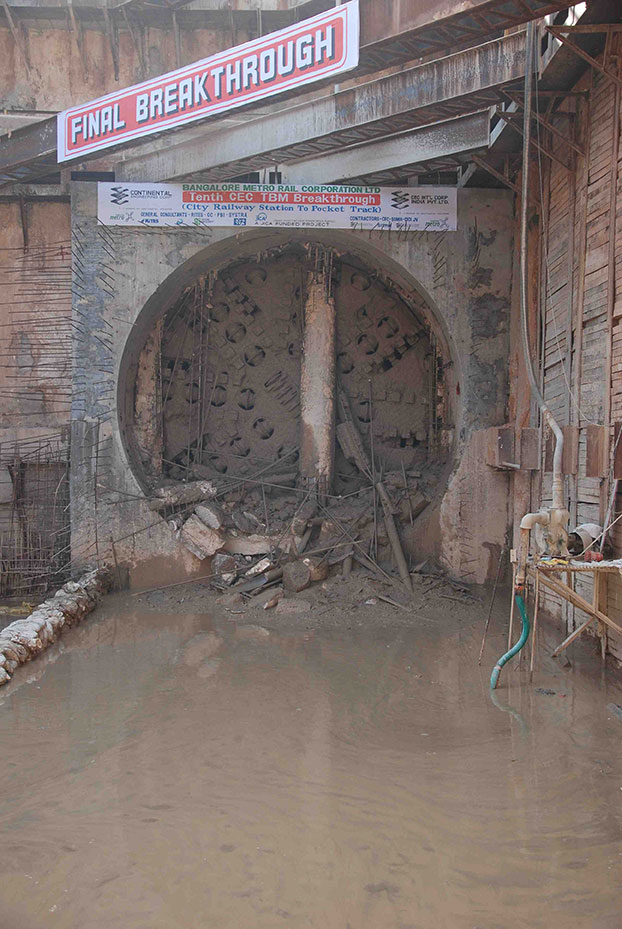 Last month, TBM "Helen" broke through completing over 5000m of mined tunnel for Bangalore Metros East – West line underground section. "Helen" and sister TBM "Margarita" are 6.44m diameter Hitachi Zosen Slurry Shield Machines and have been deployed on the twin bores between City Railway Station in the west to Cubbon Park Station at the east end of the project.
The Works involved mining through some of the most difficult ground conditions that have ever been encountered especially in the mixed face conditions often combining hard fresh rock and residual soils with high ground water table.
One of the most challenging drives has been the last which involved passing under 23 live railway tracks and the platforms of the extremely busy Bangalore City Station of Indian Railways South West Region with the cover as little as 5m in places and in a highly variable and unpredictable mix of geology.
Due to access constraints it was decided to operate "Helen" only for the twin bores going outbound on the west bound tunnel then a u-turn for the east bound return.
Tunneling commenced in April 2011 with the slurry TBMs being the first of this size to be used in India. Another first is the use in Asia of a Universal Taper Ring, the 5.6m ID ring comprises 1.5m long trapezoidal segments and utilises dowel connectors and spear bolts.
There are four separate twin bore sections connecting Majestic Station (the north – south, east – west interchange) with Sir M. Vishweshwaryah Station and then to Vidhana Soudha and Cubbon Park. City Railway Station on the west side connects to a cut and cover stabling box.